A logo is an indispensable part of any brand's identity. All logos can be roughly subdivided into 3 large groups: emblems/brandmarks, wordmarks, and combination marks. Brandmarks always accentuate the symbol, whereas fonts often take on a leading role in the other two types of logos.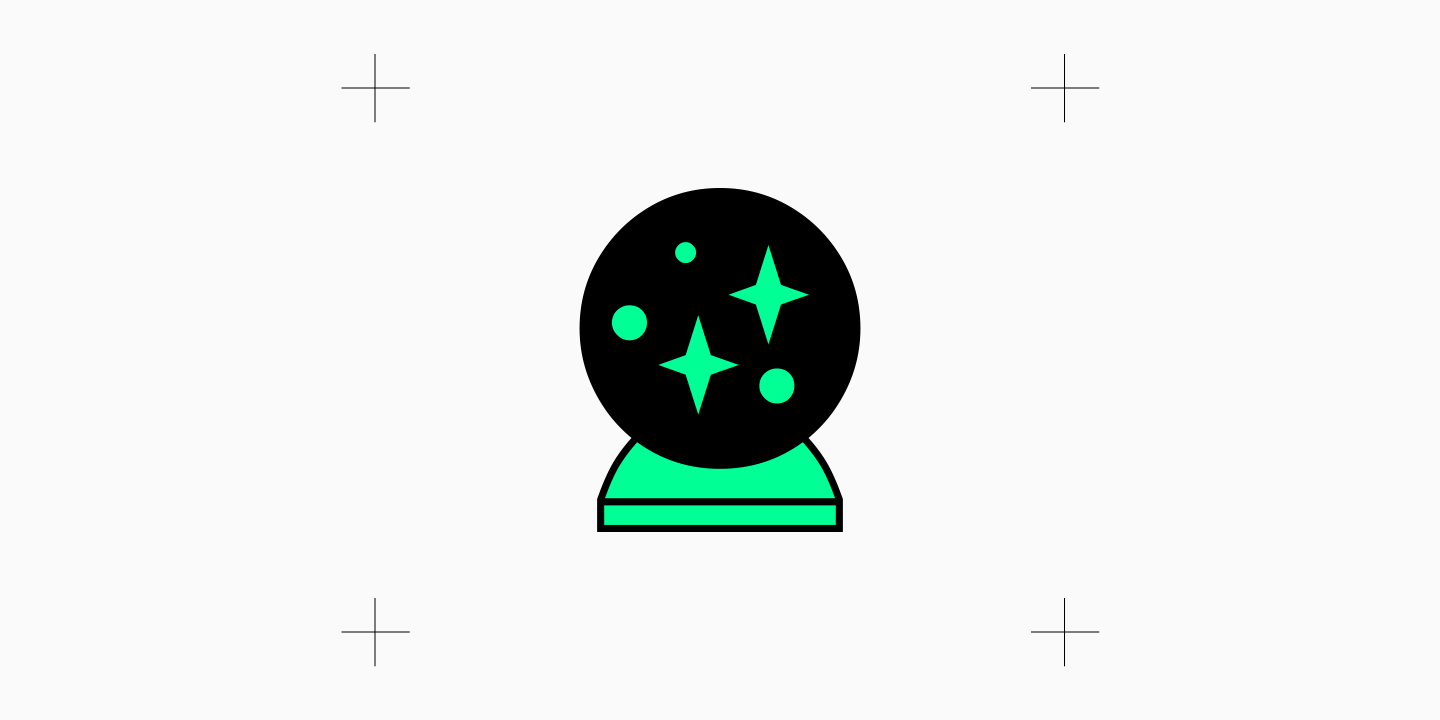 Fonts can be stylish and bold, attractive and elegant, simple and modern. The key is to choose the one that would suit your needs and requirements. In this article, we'll focus on how to find this perfect match and provide the list of 15 best fonts for logo design from the TypeType collection, which are trending in 2023.
Tips for choosing the perfect font for your logo
The main function of a logotype is to represent the brand personality in the visual surroundings. A font that will become the foundation for that must match the following criteria:
Suit the style: The logo must convey the overall brand's tone.
Be recognizable: The right font for your logo must be unique and eye-catching.
Be legible: A letter, word, or phrase must be easy to read, so, if possible, it's better to choose a simple font for the logo.
Be advanced: The font must work well on all platforms and scale easily across multiple devices.
The logotype will be the first thing to help your potential audience or future clients develop an initial impression of your brand. That's why the style of your logo font must match the product or company character. There is no font option that would suit every possible logo. A perfect font is the one that is appropriate.
Let's consider a simple example: imagine a kids' clothing store using a free Gothic-style font Demon Letter. What do you feel by looking at a logo like this?
Of course, if it's a specialized store aimed at goth or nonconformist parents, this font will help emphasize this feature and make the brand stand out. However, if the brand makes casual kids' clothing, a logo like this will mislead potential customers or won't catch their eye at all.
Another example: imagine an unusual designer font used for the logo of an official organization. Let's say it's a free font called Hidebeast by Allouse Studio implemented into the logo of The International Committee of the Red Cross. What effect will this design choice have? You're most likely to think you got the website address wrong, and the portal will make you feel skeptical.
Tip: Before choosing the font, analyze your competitors' logos. Find the most popular logo fonts in your domain and try figuring out what emotions they may evoke.
After you've determined the style, it's time to think about distinctiveness. In similar or seemingly identical typefaces, some elements may differ slightly, for example, the design of several characters. However, such tiny details can make your logotype both recognizable and unique.
Tip: While choosing among visually similar fonts, analyze the letters and characters you need for your logotype. Pay closer attention to how each of them looks separately and arrange them in the desired order to see what their effect is in combination. There is a chance that the letterforms from the typeface you initially liked won't create the necessary impression in a logo.
How many fonts you should use in a logo
You should avoid excessive elements in your logo, so it's better not to use many fonts at once. At most, two or three fonts, ideally just one. The «simpler is better» rule works perfectly here.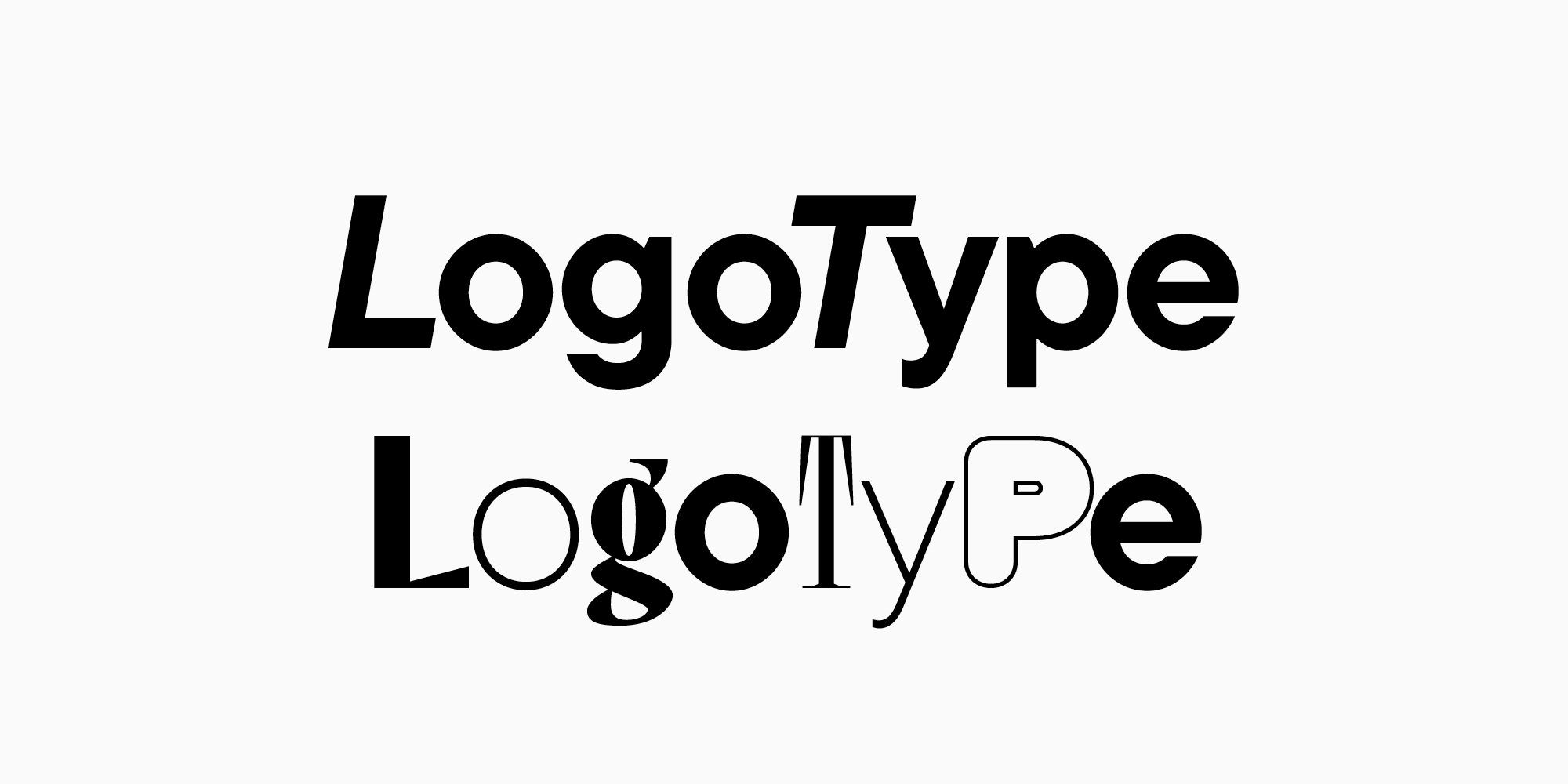 How to combine logo fonts
If you've decided to mix several fonts in your logo, knowing how to do it right is essential. Combined, the fonts must complement each other.
There are two options. The first one is to combine different font styles of the same typeface. In this case, it would be easier to keep stylistic integrity.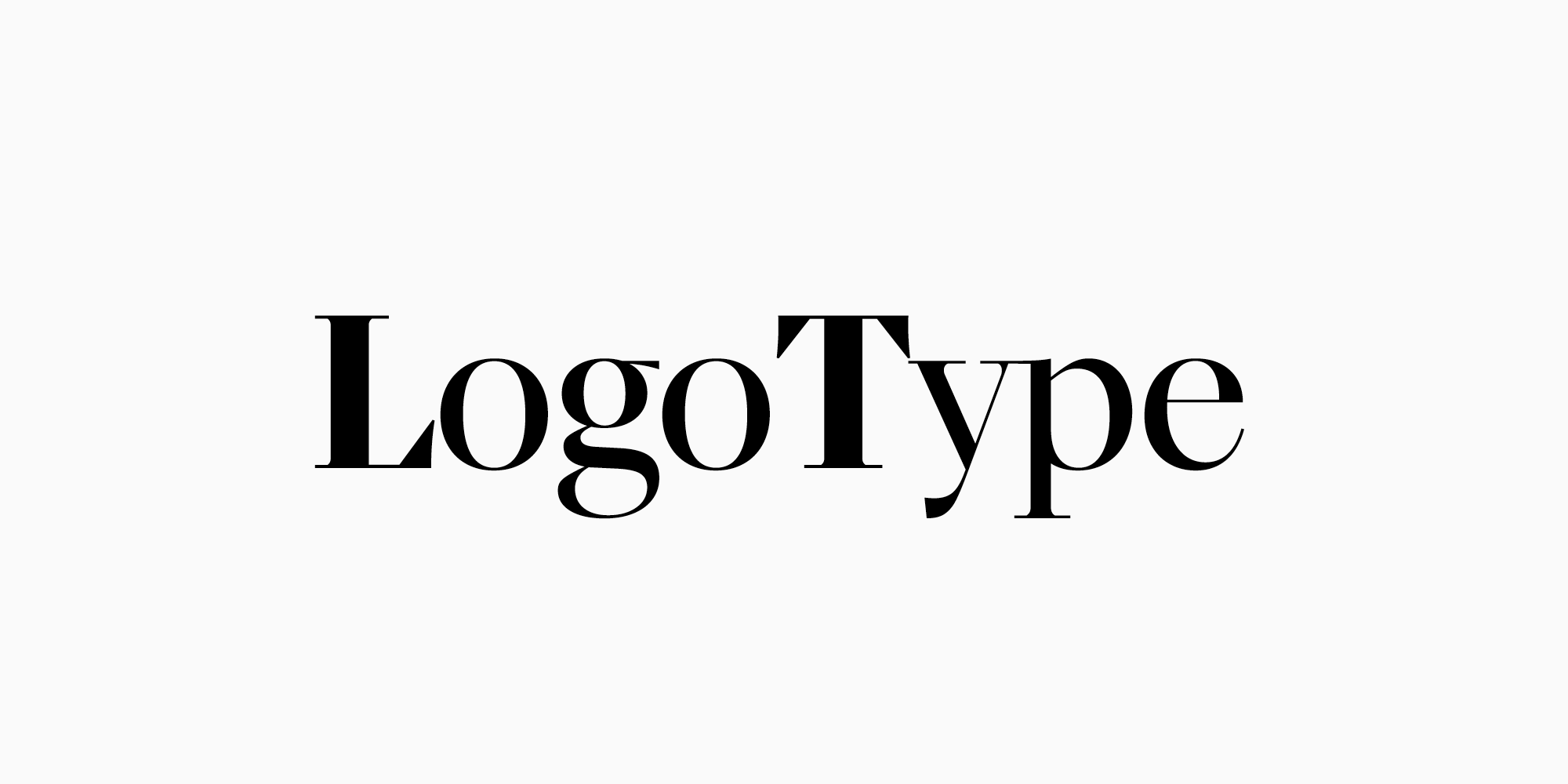 The second option is to create a font pair, which may be difficult as there are no clearly defined rules on pairing. However, it's possible to find existing font pairs. In our studio, for instance, one of these is TT Norms® Pro and TT Norms® Pro Serif. Learn more about font pairs in our article.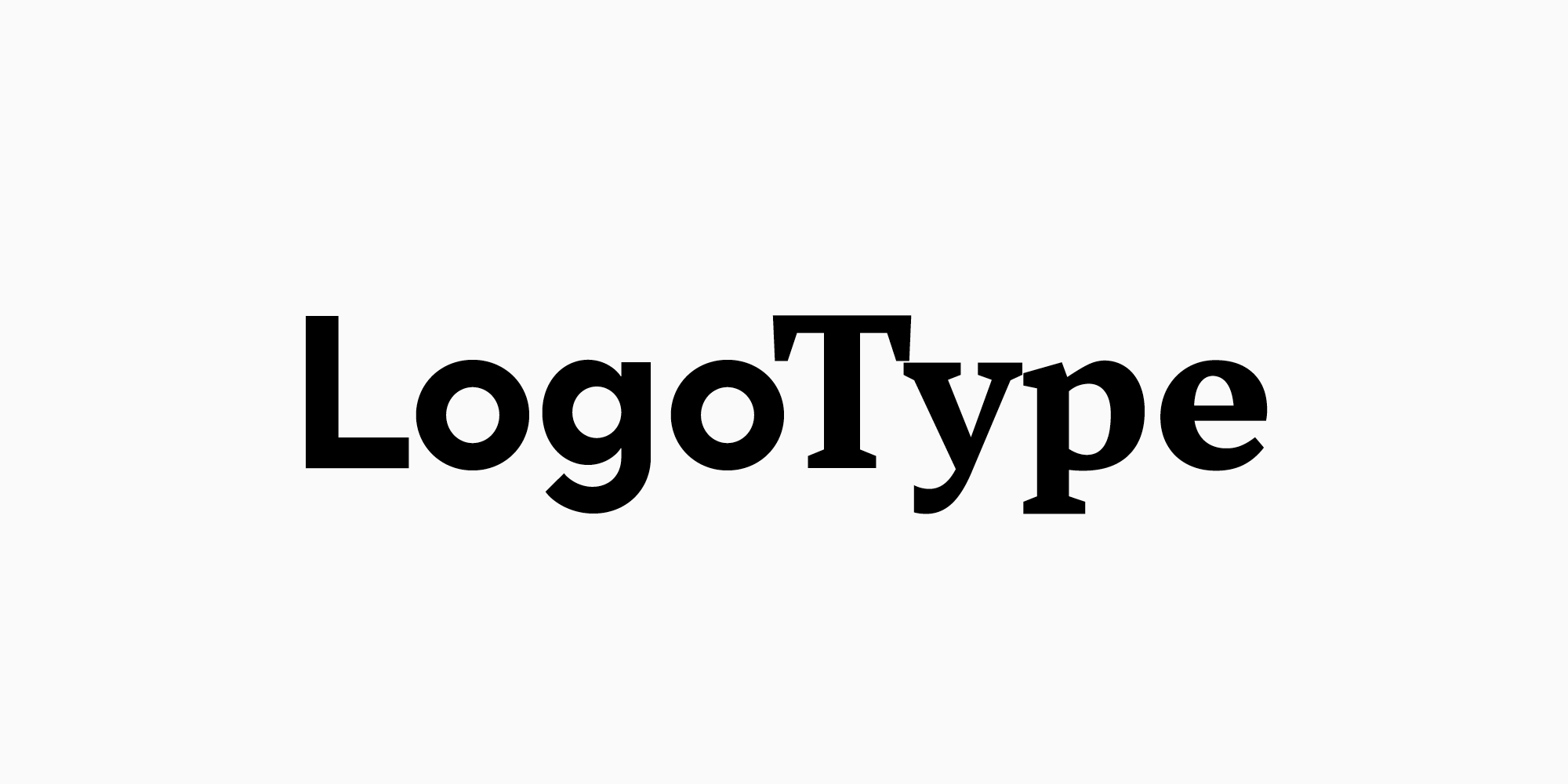 Types of logo fonts
What kind of fonts can be used for a logo? In theory, any font can work, there aren't any strict limitations. However, considering the tips mentioned above, there are the following font categories suitable for logo design:
Antiqua (serif) is a general name for all fonts with serifs. They are usually subdivided into four groups: Old-Style, Transitional, Modern, and Slabs.
Grotesque (sans serif) is a font without serifs. They are also subdivided into groups: Old-Style, Humanist, Geometric, and Neo-Grotesques.
Slab serifs are a subcategory of Antiquas, which has a distinctive feature—large and solid serifs.
Script fonts are a group of fonts imitating handwriting.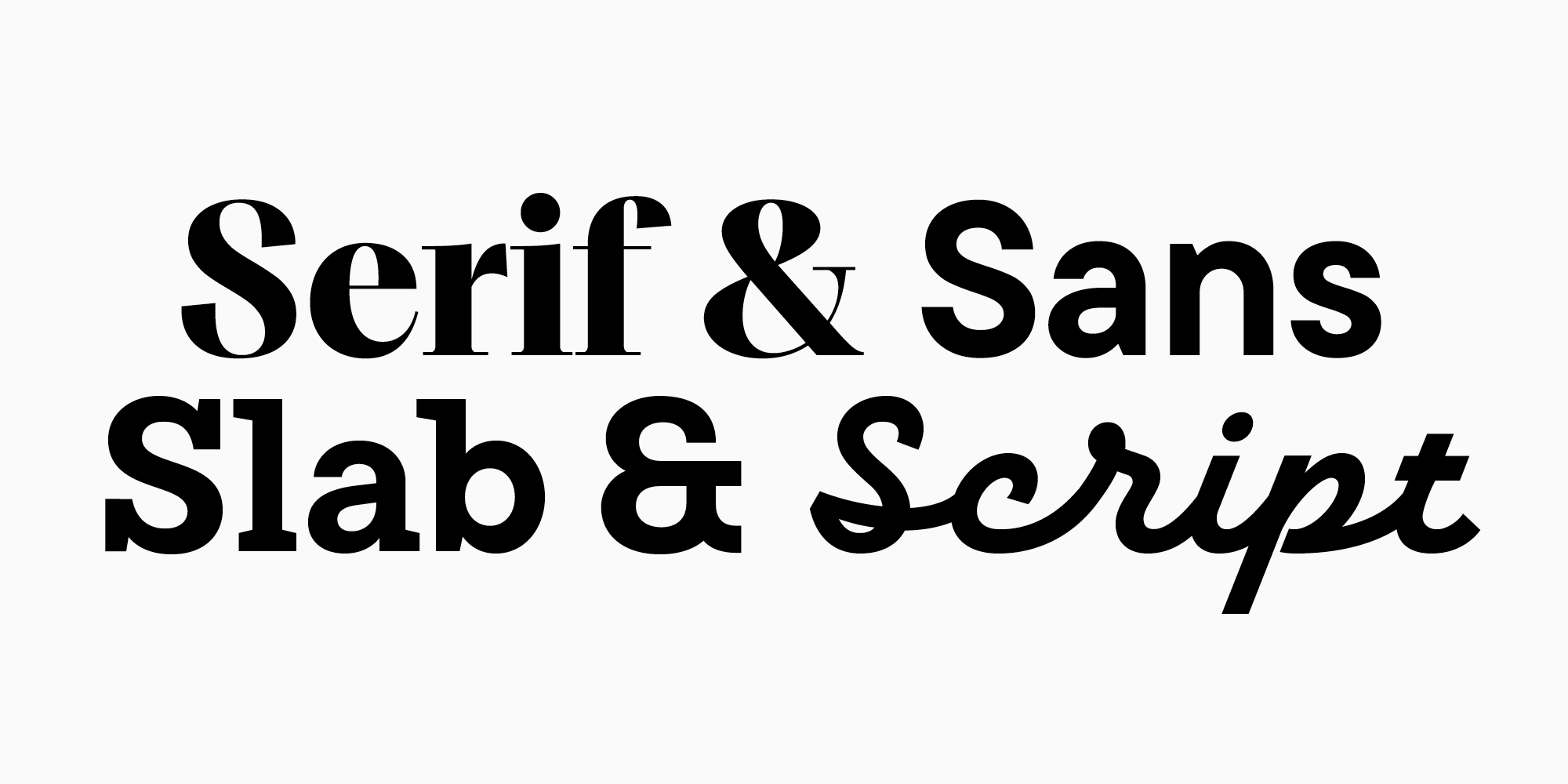 Best modern serif fonts for logos
Serif fonts, or Antiquas, are most often used to emphasize the brand's prestige or elegance, create the atmosphere of rich history and respect for traditions. However, the use range of contemporary serifs is not limited to this case only.

TT Livret—a modern serif free without a vintage look
The TT Livret typeface is an excellent example of a modern and functional serif. This font is elegant and calm, so it will perfectly complement various brand logos.
Modern and neat TT Ramillas
Another example is the TT Ramillas font. Its use range is narrower, but it's still well-tailored for contemporary reality and its technical requirements. This typeface works great in logotype graphic design, accentuating the brand's premium and luxury status. For instance, logos for clothing boutiques, perfumes, or jewelry.
Soft and gentle TT Phobos
Thanks to its mild and friendly nature, a fluid and expressive serif TT Phobos will help attract attention to your logo without being too visually demanding. We recommend considering the Stensil font style, which is ideal for logos. Also, It's a particularly great idea to use TT Phobos for the logo of a pastry shop or a restaurant.
TT Espina—expressive and trendy
TT Espina is a display serif inspired by old times while still remaining modern. This is an unusual font with many peculiar details, so one would definitely want to take a closer look at such a logotype. It's worth mentioning that this font option works good in larger sizes.
Great sans-serif fonts for logos
Fonts without serifs, or Grotesques (sans serifs), are usually the most versatile. Due to their simple and often neutral nature, they are suitable for various domains. Sans serifs are used to design logos of clothing brands, websites, video games—the number of options is almost infinite.
The bestseller TT Norms® Pro
TT Norms® Pro, a functional geometric sans serif, is one of the most popular fonts made by our studio. It offers convenience on the technical side while being highly versatile in terms of aesthetics. TT Norms® Pro is ideally suited for almost any domain: mobile app logos, clothing brands, mass media, educational projects, and more.
TT Trailers—a font for a vibrant brand identity
TT Trailers is an expressive display sans serif. This font is an interesting choice for logo design and can suit various themes. The initial typeface version was made with the cinema industry in mind, but the updated TT Trailers will also shine in logos of magazines, restaurants, food and beverages, apps, and websites.
Trendy, stylish, and youthful TT Travels Next
If you're looking for a modern logo font, consider TT Travels Next. This is an expressive sans serif with remarkable details. It would be a perfect fit for contemporary brand identity.
TT Alientz Grotesque—an out-of-this-world sans serif for unique design choices
Although sans serifs are considered to be relatively neutral, there are truly extraordinary options among them. And TT Alientz Grotesque from the TT Alientz font family is one of them. Super expressive, audacious, and spiky—this is the font for those looking for a cool logo font. The typeface will easily fit into the identity of unconventional and provocative projects that want to make a statement. TT Alientz Grotesque will help create a supernatural, magical, experimental, and nonconformist feeling about the brand.
Best slab-serif fonts for logos
When used in logos, slab serifs evoke various associations: they can be serious and solid or bright and eye-catching. The scope of such fonts use is quite broad and depends on a specific typeface.
Catchy and dynamic TT Cometus
TT Cometus is a slab serif for a captivating and attention-grabbing logotype. It is solid but flexible and dynamic, so a logo with this font will look modern, vibrant, and confident. Also, the font's fluid shapes give TT Cometus a friendly nature.
Sharp and precise TT Rationalist
If you aim to find a versatile, recognizable, and unique logo font, TT Rationalist may be your perfect choice. With its classic design, this typeface can be applied in various fields, making a logo modern and distinctive.
TT Globs—a contemporary foundation
TT Globs is a modern wide font, one of the core options in our collection. This font has an extensive use range.
Best script fonts for logos
Script fonts can be used for logos with different purposes in mind, as the nature of these fonts may vary from casual and playful to calm and elegant. However, script fonts are good at conveying the feeling of something handmade and local, as well as showcasing the brand's distinctiveness.

Romantic and playful TT Lovelies Script
TT Lovelies Script was designed based on original calligraphy. As a result, the font turned out to be unique, highly functional, technological, and partially unpredictable at the same time. The main feature of the font is its non-breaking ligatures. This is a real gem for those who need a beautiful, sophisticated, and fun font for their logo.

TT Knickerbockers Script
Opposite in nature, TT Knickerbockers Script is a font inspired by New York and its architecture. Monumental, dynamic, and upright—it's more strict but can also contribute to the feeling of handcrafted quality. TT Knickerbockers Script has a large scope of applications.

TT Polls Script—a retro-style American classic
TT Polls Script from the TT Polls font family is familiar to the eye—shapes like these are typical for script fonts. The font references the classic American style and creates a retro feel. If you use it wisely in your logo, these features will work in your favor.
Fonts of famous company logos
For greater clarity, let's look at what fonts famous brands use for their logos. You'll find more TypeType font options that can match your project's needs here.
It's worth mentioning that many companies use their own corporate fonts for logos. For instance, Instagram employs their unique Instagram Sans typeface, Uber opts for Uber Move, and Apple relies on the iconic San Francisco font.
Also, logos of famous brands are often created based on custom lettering. This solution can be seen, for example, in the identity of Coca-Cola, Minecraft, Nickelodeon, Tesla, Google, and M&M's.
Companies often use already existing fonts for logos or have specific fonts designed for a project.
Here are several examples of logotypes designed using the fonts made by our studio:
The CBS News streaming video channel logo has TT Norms® Pro at its core, the font we mentioned earlier.

A fashionable serif with historical roots, TT Ricordi Fulmini, is featured in the logo of the 2023 Dead Ringers series;
TT Hoves Pro is another versatile sans serif. You can see a modified version of this font in the logo and website of the major Spanish telecommunications company, Telefonica. In its original form, it is used in the logo of the Lithuanian state agency Invest Lithuania.

And here are the fonts used by other famous brands:
Following a recent rebranding, the M&M's logo implements the All Together typeface from Monotype Imaging;
Sony—the Clarendon font;
Playstation—Zrnic Regular;
Samsung—DDT Condensed;
Adidas—ITC Avant Garde Gothic.
Conclusion
So, we have put together a collection of more than 15 best logo fonts relevant for 2023. You can rely on this list and our tips when looking for the best logo for your brand before creating your signature mark.
However, keep in mind that the rules are arbitrary, and something new is always created where the boundaries dissolve. Explore fonts, develop your visual intuition, and don't be afraid of experimenting with ideas!